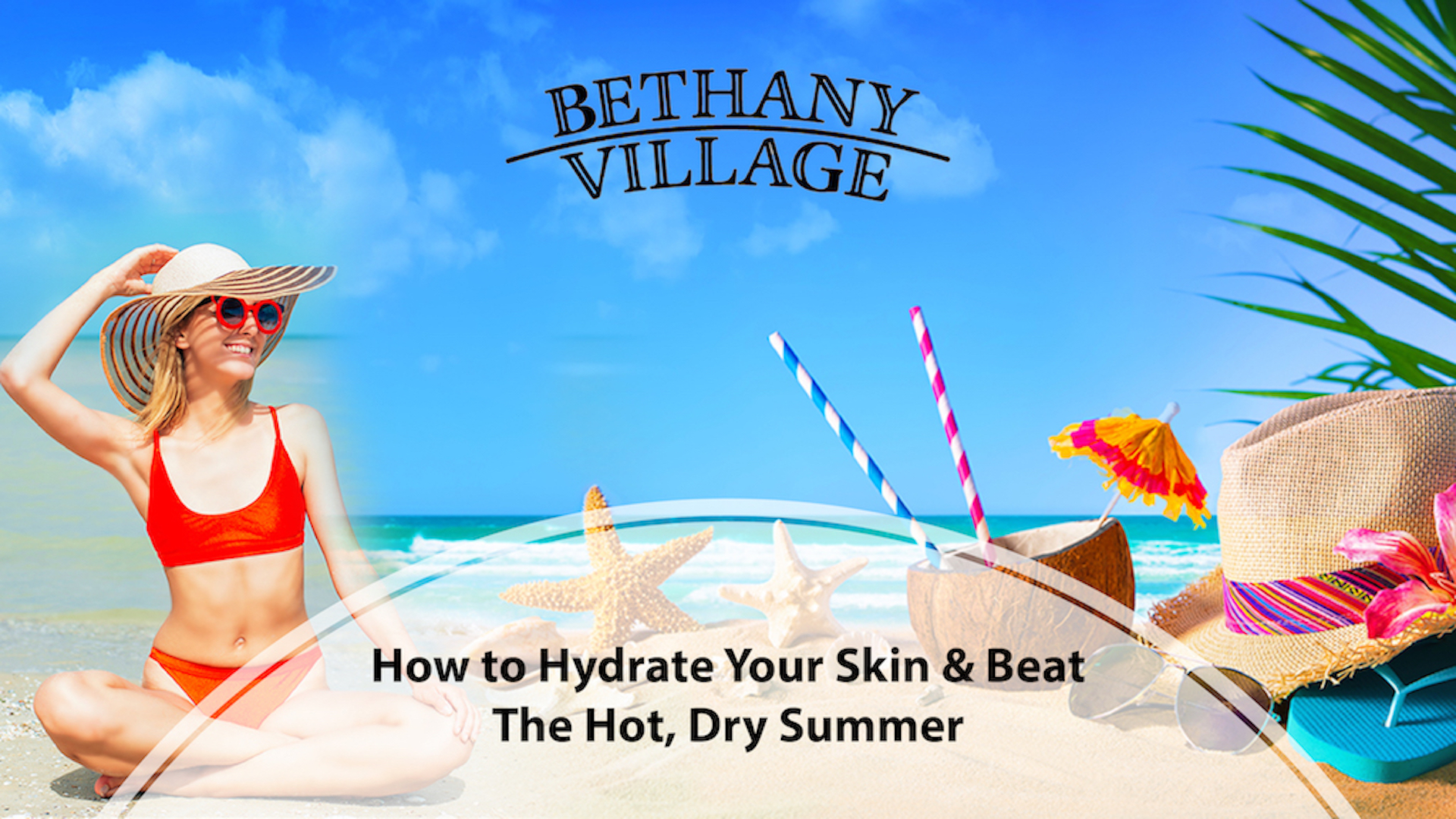 Everyone envisions summer skin that's smooth, firm, and glowing with a hint of tan for that perfect sun-kissed look. However, it can be really difficult to get well-hydrated glowing skin in the summer. Summer weather is really hard on skin! 

Soaring temperatures combined with humidity can make active oil glands go into hyperdrive. With enough time spent in the hot, summer rays, you can eventually end up with excessive sebum around the t-zone, itchy rashes, sunburn, and even premature signs of aging. This makes a proper skin care routine incredibly important as it's your first line of defense. 
Here's how to hydrate your skin and get glowing during the summer:
Consider Changing Your Face WashWashing your face is possibly the most basic (and probably the most important) skin care routine that you need to consistently follow year-round to hydrate your skin. During the summer, the climate is hot and humid, causing your face to produce more oil, so you should change your cleanser accordingly.



Oily skin is the most at risk- your pores can easily get caused, leading to breakouts. Other articles recommend a foaming cleanser with salicylic acid for summer, but we advise against that. We are conditioned to think that foaming cleansers equal clean, but this is leading us awry. Sulfates are foaming agents and are enormously drying to our skin- as harsh detergents, they are enormously damaging to the moisture barrier of our skin and can dry us out, so we cannot recommend them.





As such, we also cannot recommend salicylic acid in this case either. This acid is harsh on the skin-moisture barrier and can actually cause skin to produce

more

oil as it dries it out.





Instead, we highly suggest a double cleansing method. This is the only way to ensure you wash off your SPF and makeup all the way without harming your moisture barrier. For beginners, you can get a budget-friendly set for under $30. We highly recommend beginners to start with the

ELF gel melt

first cleanse followed by the

La Roche Posay Toleriane Milk Cleanser

or the

Pixi Double Cleanse from Caroline Hirons

.





With these products, it's safe to wash your face twice a day-leaving you refreshed and allowing you to hydrate your skin without drying you out
Do Not Skimp on Sunscreen

We often fixate on using SPF on our body during the summer, but we forget that our face needs daily protection too. Using a moisturizer, bronzer, or makeup product that has SPF in it is not enough to provide protection. These products make it impossible to get the amount of coverage you need to get proper protection. Excessive UV exposure can permanently damage your skin, causing sunburn, wrinkles, fine lines, sun spots, and premature aging. We highly suggest that you invest in a sunscreen that has a broad UV spectrum of SPF 50. Apply it every two hours (if possible) on your face, neck, and décolletage. We suggest you check out

Missha's Sun Milk

– it's a favorite around here and doesn't pill when used with makeup or a moisturizer.
Invest In Your FaceCheck into serums and oils that add the additional benefits of antioxidants. For example, vitaminC protects skin from environmental damage, boosts collagen development, and can help aid the fight against existing sun spots and damage. There are great serums that can reduce inflammation and repair your skin from the harsh summer weather.



For vitamin C, we like

Ole Henrikson's Truth Serum

(not all vitamin C is created equally and we can stand behind this product). To help with inflammation, hydration, and redness, we like

Herbivore's Lapis Facial Oil

. To combat dark spots,

Caudalie makes a fantastic serum

. And for a miracle potion workhorse that does wonders to existing sun damage, we

love

Alpha H's Liquid Gold

.
Drink All The Water!

Drinking lots of water is incredibly important during the hot summer months. Carry a water bottle with you wherever you go and keep sipping as you go through your day. This is absolutely crucial for skin health- you wear your hydration on your face. It also flushes out toxins from your body and helps keep you refreshed under the sun's hot rays. Hydrate your skin and drink more water!



We're a little partial to Hydroflask as it's a local Oregon company out of Bend. Might we suggest one of their 32oz Wide Mouth Bottles

?
Don't Forget To Exfoliate!

During the hot summer months, your skin pulls double duty keeping itself healthy and healing any irritation or sun damage. You can assist your skin with this process with gentle exfoliation. Exfoliation helps slough away dead skin cells, helping you look more youthful and radiant.





Do not, however, use sugar scrubs or that terrible apricot scrub everyone seems to love. You'll be doing yourself a disservice as these are made of particles with jagged edges and can cause micro tears in your skin.





Since we don't really like most physical exfoliation items, we suggest chemical exfoliation products. Two favorites are

Pixi's Glow Tonic

(which has glycolic acid in it at a 5% solution) or

Biologique Recherche's P50 1970

. If you need some more immediate care, might we suggest you check out

B Salon & Spa for a pore cleansing facial

!
Sultry summer days are numbered, but the damage that can pop up from the sun's rays on your skin will hang out for a while unless you care for your skin. Following these tips during summer will help you maintain your skin's natural balance while keeping it protected in the heat. 
/wp-content/uploads/2019/12/logo-bethany-dark-1-300x150.png
0
0
Bethany Village
/wp-content/uploads/2019/12/logo-bethany-dark-1-300x150.png
Bethany Village
2019-06-26 12:22:43
2022-05-27 13:02:30
How to Hydrate Your Skin & Beat The Hot, Dry Summer