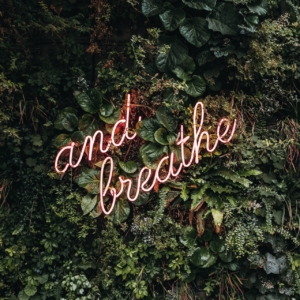 It's Summer time! The kids are out of school, vacations are less relaxing and more stressful, and you have even less time to yourself than you did back in May. Time to get on the treat yo' self train and get some serious self care and Bethany Village is here to help you get your Summer Time Zen on.
Zen and finding it means simply slowing down and mindfully interacting with your environment. We're confident that your visit to Bethany Village will leave the rush and activity behind and give you a moment to slow down the frame and take everything in. Often, we define peace by the complete absence of stress- something that serves as a neutral, inactive state. But is having a sense of peacefulness really just a passive state of mind? Actively practicing peace means that you have an increased sense of inner clarity, a feeling of calm about you, and a solid, deeply rooted feeling of inner balance. 
Here's the 5 ways that the businesses in Bethany Village can help you relax and recover:
Nailz Bizzare
Nailz Bizzare is a full service nail salon that offers a personalized experience with custom nail artistry. They've expanded their service menu and you can now destress with a variety of beautifying facials, waxing, and other specialized skin care treatments to help you live your best life. 
Massage and Spa At Bethany
Massage and Spa Bethany will help you chill out during the hottest times of the year. They offer a variety of luxurious soothing, and relaxing services that encourage the body to be at its best.
Having time to practice self-care is a core value at Massage and Spa Bethany, so they're open seven days a week. Their massage therapists and estheticians work hard to personalize your visit to individual needs.
The Lash Lounge
The Lash Lounge at Bethany Village touts itself as 'not your average lash studio.' Focusing on the ultimate customer experience- from the moment you walk in you'll be treated to an amazing experience. 
You'll get an expert consultation with one of their expert lash artists where you craft a personalized look with their help. 
Santosha Yoga
Santosha Yoga believes that yoga has the power to transform people's lives. 'Santosha' is Sanskrit for contentment and we're sure that you'll find contentment here. Santosha Yoga is an ancient scientific system that's designed to empower health, happiness, and a sense of self. 
B Salon & Spa
B Salon & Spa is located in the Bethany Athletic Club and is ready to make you beautiful, radiant, and relaxed! You can get facials, massages, hair and nails done- treat yourself to a full spa day and go on to conquer your life feeling refreshed and rejuvenated.
No matter how you decide to spend your time in Bethany Village this Summer, we're sure that you will leave feeling relaxed and de-stressed. Mindfully choosing to love yourself through self-care is a radical way of celebrating this crazy thing we call life. Get on that good vibration and avoid the effects of Mercury Retrograde. Bethany Village helps you find your Zen any time of year!
/wp-content/uploads/2019/08/summer-time-zen.jpg
1280
1280
Bethany Village
/wp-content/uploads/2019/12/logo-bethany-dark-1-300x150.png
Bethany Village
2019-07-10 10:43:17
2019-08-01 10:58:27
The 5 Ways to Find Your Summer Time Zen In Bethany Village